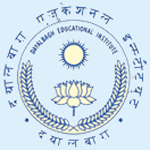 To develop Teaching/Learning Modules for advanced separation Techniques: High Performance Thin Layer Chromatography for Under Graduate and Post Graduate students.


To inculcate in depth knowledge of theoretical and practical concepts of Chromatography, inducing confidence in the students for better experimental skill.


Simulation based on the change in Rf values under different experimental conditions: Polarity of mobile phase, Nature of stationary phase (cellulose/Silica gel/Alumina), Saturation time of solvent chamber, pH (Acidic/Basic) etc.


Virtual demonstration of the experiment for multi users.